David Sereda Lightstream Harmonics Introduces Revolutionary Technology for Therapeutic Pleasure
David Sereda introduces a new breakthrough technology for music lovers with therapeutic benefits.
Nelson, British Columbia – David Sereda Lightstream Harmonics introduces the new sonic magnetic wave technology for music listening and therapeutic pleasure. It will be the first development of a sound system that spans the bottom of the human brain wave range that is normally below the frequency response of today's stereo speaker systems. This is beyond human acoustical hearing, which has never been experienced in this way before. David Sereda Lightstream Harmonics invites individuals to help finance this most advanced frequency range speaker for sale, with the goal of this speaker system becoming an everyday household item.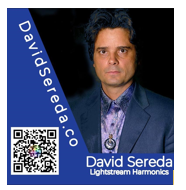 Through this breakthrough technology, experience stereo speakers allowing a frequency range of 0.5–30,000 Hertz sound for listening and therapeutic pleasure. Most speakers start at 38 Hertz to 20,000 Hertz. No known headphones or speakers can span human brain waves from Delta, Theta, Alpha, Beta, Gamma, and more, which this technology can do. People can add a coil or cube to their existing stereo system, and it will transform into a 0.5-30,000 Hertz magnetic wave sound system. The Lightstream Harmonics' product line includes speakers, coils, therapeutic frequencies, frequency Wands, and a therapeutic sound frequency mat. To learn more about becoming a distributor of Lightstream Harmonics technologies, go to https://www.davidsereda.co/become-a-distributor
David Sereda says, "Frequency has more effect on human consciousness and mood than any other modality." His latest technology speakers are perfect for use in places where music plays a critical role in relaxation. It assists with emotional stress, feeling positive, and staying motivated even in adverse situations. The speakers are ideal in spas or homes where relaxing music is played. Spa music has a calming effect and can be in the form of crashing waves, pulsing rain, or birdsong, which has a calming and positive impact on the mind.
David Sereda cares a lot about the well-being of humanity. His work started decades ago when he was Director of the Los Angeles-based "Tesla Foundation," promoting scientific discoveries for a better environment. Since then, he has been working closely with his customers, helping them with the latest products so they can have everything that can help them heal faster, feel healthier, and enjoy mystical, therapeutic, creative vision and spiritual experiences.
Video Link: https://www.youtube.com/embed/HZGe-rxO8lQ

Music therapies and therapeutic benefits:
Music therapy has been around for ages, used as a treatment option in several instances. It is an excellent alternative to different therapies, including cognitive-behavioral therapy and counseling.
Music therapies and sessions help improve self-awareness, communication skills, confidence, attention skills, and concentration. Therapists observe people closely and use their responses and connection to music and frequency. This technology is used to analyze and encourage positive changes in mindset and overall mood.
With time and improvements in technology, music therapies have changed their form. It is known that the cerebellum processes rhythm while the frontal lobes can decode emotional signals that are created by music. Music therapy plays a major role in using these physical reactions to assist people suffering from various conditions.
In the present, improvisation has become an important part of music therapy, where different accessories play a significant role. Most speakers start at 38 Hertz (in the gamma part of the brain), well above the healing frequency levels of the brain that start at 0.5 hertz to 30 hertz. This is where David's innovative technology, combined with high-tech speakers, will advance sound therapy.
David Sereda understands that music affects the brain in different ways, and the process is quite complex. Various aspects of music, including melody, tempo, and pitch, are processed in different ways in other sections of the brain. Because most stereo systems miss this whole range, and because musical recordings contain frequencies all the way down to Delta, listeners essentially are missing so much quality. These new speakers or coils transmit the low therapeutic range as a magnetic wave into the nervous system, which is measurable and can be felt as deep soothing sensations in the body and mind.
Therapeutic Music for That Deeper Sound Experience:
David Sereda mentions that this technology is perfect for those who love music and want to soak up that deeper sound experience. It is known that music with strong beats can stimulate the brain. Sharper beats are known to bring sharp concentration and alert thinking. The slower beats are often used for therapy and relaxation in spas for meditation and calming.
Music therapy and music help prevent the damage caused by chronic stress. Through changing brainwave activity levels, the brain shifts speed slowly and easily. This further promotes relaxation and health, bringing additional benefits to one's state of mind even after one stops listening to it.
About David Sereda:
David Sereda is an educated and self-taught scientist, physicist, and mathematician who has worked on the development, marketing, and sales of therapeutic frequency technology for over 20 years. He has worked in DOD for years with active involvement in bomb detection, landmines, and nuclear fusion. For more than 45 years, he has studied world religions and practiced meditation, breathing techniques, and spiritual practices.
He was passionately involved in searching for the Logos to experience God as perfect vibration, which led David to decode frequencies related to the universe and nature mathematically. This was when he developed Light Stream Harmonic Frequencies, the world's most extensive frequency library and the most advanced frequency transmitters globally.
About David Sereda Lightstream Harmonics:
David Sereda Lightstream Harmonics is a company formed by David Sereda that offers a wide range of Lightstream products. He started the company in Arizona in 2007, along with jewelers from Sedona. They handcrafted several products that include Staffs, Wands, and Pendants. These helped David develop his different designs for the latest technologies. The products offered include Lightstream Star Coils, Lightstream Portable Mini Coils, Lightstream Wands, Lightstream Beds, and more. The first LightStream Wand was developed by David Sereda by pulsing real gems through the pulsed crystal effect. Once this was done, the gem began to emit real energy fields into the mineral and crystal composite, which was necessary for healing.
LinkedIn – https://www.linkedin.com/in/davidsereda
Media Contact
Company Name: David Sereda Lightstream Harmonics
Contact Person: David Sereda
Email: Send Email
Phone: (250) 551-7176
Country: United States
Website: https://www.davidsereda.co/