Lex Levinrad Offering Training Classes On How To Buy Real Estate With Creative Financing
Internationally recognized motivational speaker and self made-millionaire shares his investing strategy with new investors who want to learn how to get started in real estate
With the rise in interest rates and ever-increasing monthly mortgage payments, buying a property has been challenging for investor's in today's market. This is why Lex Levinrad is sharing two key creative financing strategies to help buyers negotiate with sellers and talk directly to homeowners to make an offer to purchase their house.
"When interest rates increase, and mortgage payments become less affordable, it becomes much harder for sellers to sell because there are a lot less buyers," said Lex Levinrad, a self-made millionaire and founder of Lex Levinrad Real Estate Training. "Instead of waiting for prices to decline or for interest rates to come down, focus instead on being a problem solver by providing the seller with a solution."
"If you can find a way to solve the seller's problems, you may be able to buy their house with creative financing methods without having to apply for a mortgage," said Levinrad.
"Instead of waiting for prices to come down or for interest rates to decline, focus instead on solving the key issues that the seller is facing. They want to sell their house, but they are not getting any offers because buyers are having a hard time being approved for a mortgage because of the increase in interest rates."
The first creative financing method focuses on seller financing. This works well when older sellers are looking to sell their home and relocate to another city or downsize and move to a smaller home or condo.
"They want to sell their house, but there are no buyers," said Levinrad. "This is what creates an opportunity for you as the buyer to negotiate with the seller for a seller-financed mortgage." Seller financing may be an option if the buyer and the seller can come to an agreement on the price.
"With this strategy, you don't need to be approved for a mortgage since the seller is the one providing you with the mortgage. "If you don't offer this option to sellers, you will never know if they would agree." Added Levinrad.
The seller can record a mortgage and note to secure their interest in the property, making this a safe strategy for both the buyer and the seller. Plus, it enables a senior citizen or retired couple to get regular monthly payments from the person who buys their house. "Everyone could benefit from this strategy", according to Levinrad.
The second creative financing method focuses on assuming the seller's mortgage, a strategy common among real estate investors. If the seller has a low-interest fixed rate mortgage with low payments then the buyer can "assume" those mortgage payments. This strategy works well when the seller needs to sell, and the buyer wants to take over that low 3% mortgage rate instead of paying the higher current mortgage rates.
"If you are going to employ this strategy, consult with an attorney and have them handle the closing," said Levinrad." "This is a complex strategy since the mortgage is still in the seller's name, but the deed has been transferred into the buyer's name. If the bank finds out about the sale, they can call the loan due in 30 days by invoking the "due on sale" clause. "This is why you don't want to employ this strategy without the help of an attorney."
Due to the high level of seller motivation in today's market and the number of buyers who cannot get approved for a mortgage because of current interest rates, creative financing methods are very effective in the current market. At his real estate training events, Lex instructs new real estate investors on how to properly utilize these creative financing strategies.
For more information, please visit the Lex Levinrad Real Estate Training Website www.lexlevinrad.com or send an email to [email protected]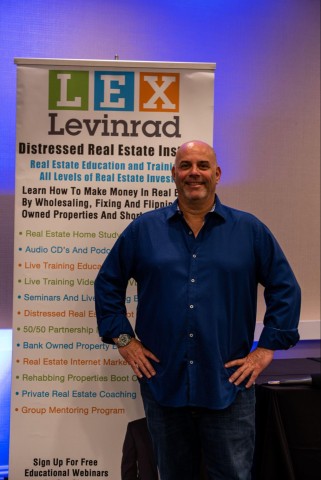 Media Contact
Company Name: Lex Levinrad Real Estate Training
Contact Person: Micaela Scott
Email: Send Email
City: Boca Raton
State: Florida
Country: United States
Website: lexlevinrad.com