Mitti Café managed by persons with physical, intellectual, and psychiatric disabilities inaugurates its Delhi Chapter with a cafe at Hansraj College.
Delhi – Feb 7, 2023 – Mitti Café launched its Delhi Chapter at Hansraj College which will be entirely run and managed by adults with physical, intellectual, and psychiatric disabilities.
"Mitti Cafe runs a chain of cafes managed by persons with disabilities, many of whom come from low-income communities. We are thankful to Hansraj College, Enactus our sponsor HT Parekh Foundation and other supporters who have made today a reality. The launch of our Cafe in the iconic Hansraj college will help send a strong message of inclusion to the public at large and sensitize them to the lives of persons with disabilities. We are extremely excited too about the economic and social opportunities the Cafes present to our team and trainees with disabilities, for many of whom this is their first job." said Ayesha Alam, CFO, and Director – Mitti Cafe.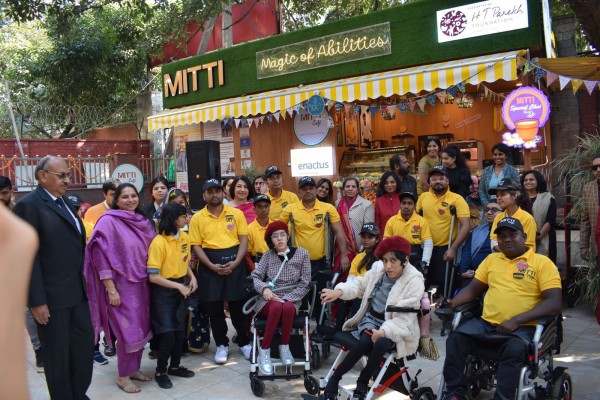 The inauguration had cultural performances by persons with disability and ended with the National anthem in Sign Language.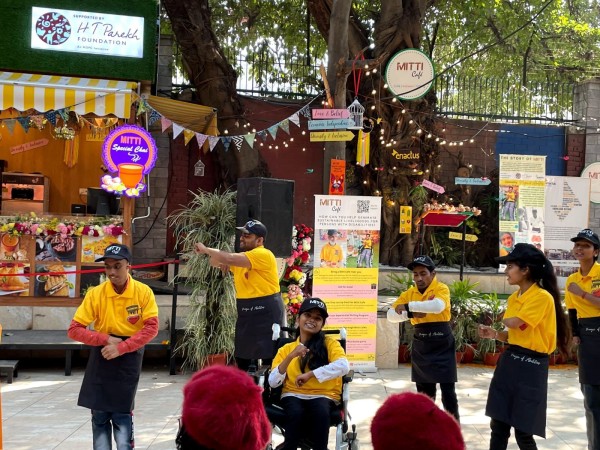 "To be able to run a Cafe managed by adults with disabilities at the iconic Hansraj College in association with Enactus will send across a very strong message around diversity and inclusion to the community, especially the youth who have the potential to fuel and accelerate the movement of inclusion," said Swati Dokania- COO and Director, Mitti Café.
Video Link: https://www.youtube.com/embed/iJFwJbEihBo
The cafe inauguration was attended by the Chief Guest Kalpana Das, a lawyer and social activist and the spouse of Chief Justice of India, Justice Chandrachud, as well as her two foster daughters, Priyanka and Mahi, who have different abilities. The event was also attended by the Hansraj College Principal, Vice-Principal, and Enactus Convenor.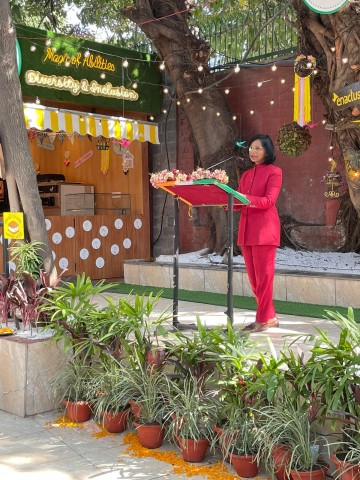 "We are delighted to have Mitti Café open their cafe at Hansraj College, have the student community participate in enabling employment opportunities for the disadvantaged, and spread a message of hope and positivity. It's very inspirational to see how Mitti Cafe has created such an amazing concept of inclusive cafes across the country that is genuinely empowering and paves the way to social change. This concept and approach deeply resonate with Hansraj College's commitment to inclusivity," said Dr. Rama, Principal of Hansraj College.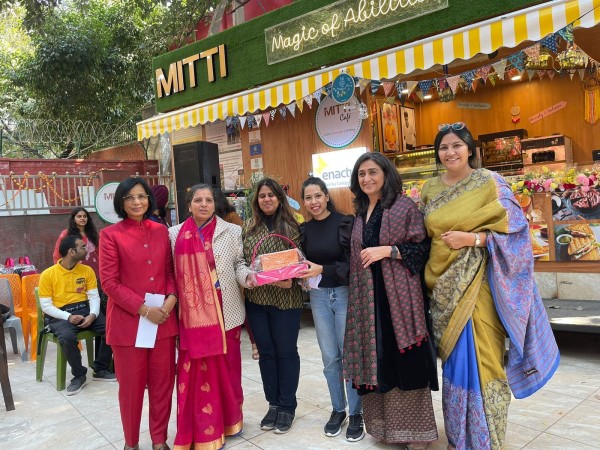 The café was sponsored by HT Parekh Foundation and attended by the senior leadership. Through the cafe, Mitti in association with Enactus will generate livelihood and skilling for persons with disabilities and also create awareness about the cause of disability inclusion.
About Mitti Cafe
'Mitti Cafés work towards economic independence and dignity for adults with physical, intellectual, and emotional disabilities and persons from other vulnerable communities. The organization's outreach initiatives also help create awareness about inclusion and disability rights.
Mitti Cafés across India are managed by adults with disabilities who have served over eight million meals and beverages in the last few years, thereby creating awareness about inclusion with every meal served. Mitti Cafes are opened in partnership with and situated inside corporates, hospitals, colleges, and public spaces like airports.
Mitti Cafe has been the recipient of several awards and recognitions by the United Nations, Niti Aayog, The Commonwealth, UNESCO, The Times of India, Rotary, and Tiecon amongst others for its impactful work, while Mitti Café's CEO and Founder, Alina Alam, has been featured in the Forbes list of 30 under 30.
You may learn more about Mitti Café at:
https://www.youtube.com/watch?v=ooGjypwrIr8
For more information, contact Alina Alam, CEO and Founder, Mitti Cafe at +91 80089 44931 or Swati Dokania, COO, of Mitti Café at +91 90044 84951.
Media Contact
Company Name: Mitti Cafe
Contact Person: Deepsikha
Email: Send Email
Phone: +918008944931
Address:716/2, 22nd Cross Rd, K.R.Road, Banashankari Stage II, Banashankari
City: Bengaluru
State: Karnataka 560070
Country: India
Website: mitticafe.org