The Headliner Makes Headline News: Absolute Phase is entering into 2023 with a vengeance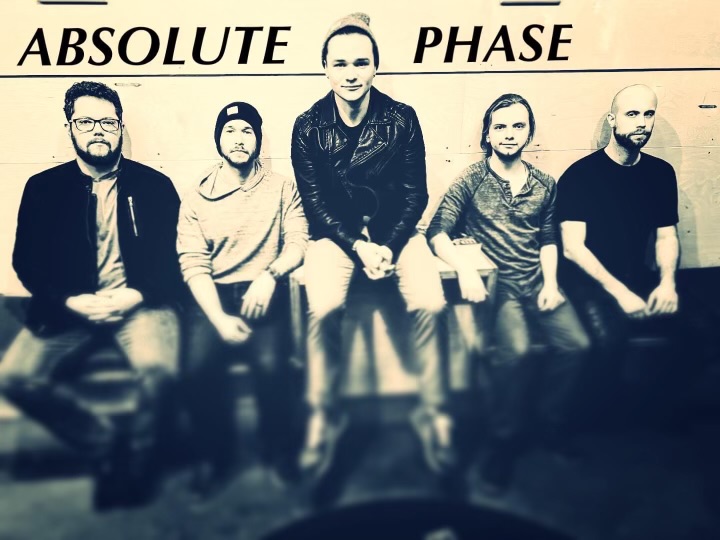 Absolute Phase is entering into 2023 with a vengeance. They have already dropped a hot new music video which has captured the hearts of Pokémon and music lovers alike. Now, they just released their new single, "The Headliner", through their new partnership with Sony Orchard, the same label as Bad Bunny, and it's already making waves. They are releasing a full album in the next few months and "if it's anything like what I just listened to, we're here for it."
Lucky enough to get Zaq Johnson, lead singer of the band, in for a one-on-one interview:
"How does it feel to have one of the biggest record labels in the world behind Absolute Phase on your new release?"
"It's honestly a bit surreal. I'm incredibly grateful to everyone who has supported us along the way, and especially to the band as a whole for all of their dedication and hard work. I also have to thank my parents for supporting me this whole time. My dad, who has his own claim to fame, for helping lead us along the right path, and my mom for supporting us and letting us disrupt her household last August for a songwriters retreat with the whole band. I'm sure she loved it." Zaq smirked.
"Who are your parents?"
"My dad is Dennis Keith Johnson, arguably one of the best bass players of his time. He is an original and founding member of the band, Survivor, and he also was in Chase, who had a gold record for their hit song, "Get It On". He did plenty more as well, but he doesn't need me to flaunt his accomplishments, they speak for themselves. My mom is Cherryl Fonfara. One of the best session and jazz singers in Chicago, for quite a long time. She was one of the main two voice teachers who taught me to sing properly and she also has a very rare voice. She's a contralto, so she has an incredible vocal range."
"Ah, so you come from a musical family. That makes sense. And with this new album, what are you most excited for about it?"
"Well, the quality of the songwriting has become more of a collaborative experience and it shows. It highlights how much we've matured as a band since our first album, "The Little Black Book". Most of those songs are literally just love and heartbreak songs. I'm sick of singing about that, but most bands go through a phase like that in the beginning I suppose… Regardless, the depth of creativity and intuition that all of the members bring to the table has evolved into something bigger than any one of us could accomplish alone, or even imagine for that matter. Alvin Santner, our lead guitar player, has these incredible musical ideas that keep us fresh and outside of the box, yet still consumable, with a little direction of course. Zaq smirks again, "He's gonna be angry at me when he sees this. Love you Alvin! Anyways, Matt Storey, our bass player, and the only other original member now, comes up with these tasty, awesome, bass licks that just hold everyone in a tight pocket while adding so much flavor to the music. It's his own secret blend of herbs and spices. Watch out, he's coming for you KFC!" Zaq laughed, "Also, Ian Rottner, from Social Que, has taken control of most of my guitar parts at this point and turned them into something I just couldn't do, allowing me to focus on what I'm good at, singing. He almost acts like a synth player, filling out our sound with his vast knowledge of pedals and production effects. He even does our mixing too. Finally, our newest member, Tommy Sagans, has really impressed me with his almost orchestral, yet still driving drum beats and fresh takes on our songs, old and new. I'm so excited to see what comes out of our whole union as a band as we continue to progress forward."
"We don't have much more time so I have one last question, what are your plans for the band for the rest of 2023?"
"Well, we have our album release, we have more music videos being shot, we have a big livestream event coming up, we're going to be on a TV show called "The Nerdium" on the 31st this month, we're suddenly getting festivals reaching out to us because all of our buzz along with our new Sony Orchard deal, and we're just going to keep pushing forward. The other part of the plan is to get our merchandise together and tour this year to help promote our new album when it releases. Having played All State Arena for the Chicago Wolves first-weekend playoff game was a huge accomplishment last year and I want to topple that in 2023. Who knows, maybe we'll play Madison Square Garden? Got any connects?" Zaq grins again.
"I may know some people…"
"Playing coy I see." Zaq chuckles. "I'm sure we'll connect after the interview."
"Speaking of which, that about wraps up our time with you. Thank you for giving us a moment to share your thoughts on the accomplishments of Absolute Phase so far and let us know more about what's to come."
"No problem! It was a pleasure, thank you as well!"
After we finished up, I felt the electricity of excitement in the air, and maybe even an expectation for Absolute Phase to grow to great new heights.
If you haven't seen the new music video for their song "You Are A Part Of Me", or YAAPOM for short, it's a fun filled story full of twists, turns, and most importantly, Pokémon. It's definitely worth a watch.
As for their new song, "The Headliner", it's a haunting, yet in-your-face, blend of instruments that will take you on a trip. Expect a plethora of dynamic changes, intimate singing to rock screaming in the vein of Dave Grohl or the late Chris Cornell, and energetic guitar leads, coupled with beautiful melodic themes. It might leave you speechless. I know that I was that blown away, and I think that "The Headliner" by Absolute Phase should be on everyone's playlist for 2023.
Links are below and "The Headliner" is now streaming on all platforms.
YAAPOM (You Are A Part Of Me) Official Music Video: https://youtu.be/cRxvNLDhz9c
The Headliner: https://open.spotify.com/track/2R9511ddDjxPJToaR21teA?si=VpXcjUfaRwmrhjezpTrZgA
Absolute Phase Links: https://linktr.ee/absolutephase
Media Contact
Company Name: Absolute Phase
Contact Person: Media Contact
Email: Send Email
Country: United States
Website: https://linktr.ee/absolutephase