6 Ways To Transform Backyard Into A Space For Private Parties
The pandemic has shown humans an all-new way of socialising and getting together – in the comfort of their homes! With the trend of house parties and private gatherings at home here to stay, many homeowners are looking to spruce up their homes and throw them open to friends and family. What better place to convert into a party zone than a spacious and aesthetic backyard? While many homeowners earn an added income through backyard farming, using it for personal leisure is never a bad choice. If you are looking to transform your backyard and make it the new hotspot for private parties, we have you covered! Here are six ways to kickstart that transformation.
Invest In Outdoor Furniture
No outdoor space is complete with comfortable bespoke outdoor seating. Opt for seating that is not only comfortable and ergonomic but also easy to maintain. Simple water washes or wipes down with a damp cloth should have you ready to host. Resin wicker furniture is your best bet for outdoor furniture that's built to last against rain or shine. If you are looking for aesthetic and durable outdoor furniture in Sydney, your best bet is resin-wicker furniture. Choose one with a sturdy aluminium body for a strong silhouette. Also, invest in an outdoor rug and weatherproof cushions to add to the complete look. Choose from a lounging set, dinner tables or any modular set-up that suits the mood of your party.
Ramp Up the Security
If your house parties are going to run late into the night, you must consider investing well in outdoor security. By this, we mean closing any open burrows to prevent reptiles and insects from making their way into your space. Also, regularly trim and tend to your garden to ensure no harmful plants or shrubs sprout up without your knowledge. Repair your fence to keep outside animals at bay. Promptly close any open ditches or level any uneven ground to ensure even in the dark of the night your guests are safe all over your backyard.
Invest In Cooking Fixtures
Food is central to every gathering. No backyard party is complete without a barbeque kit. Invest in a suitable barbeque set-up to ensure your parties are a food fest. Electronic barbeque kits are fuss-free options that are also safe if you have children running about your backyard. Look up the internet on how to choose a suitable barbeque grill and make sure you invest in the right fixture for your use. Set up a counter to lay out food and drinks without having to move our indoor furniture outdoors. You can also consider taking this arrangement a set further by setting up an outdoor bar counter to get the good times rolling. For a budget-friendly alternative, consider investing in a portable bar trolley that you can use both indoors and outdoors.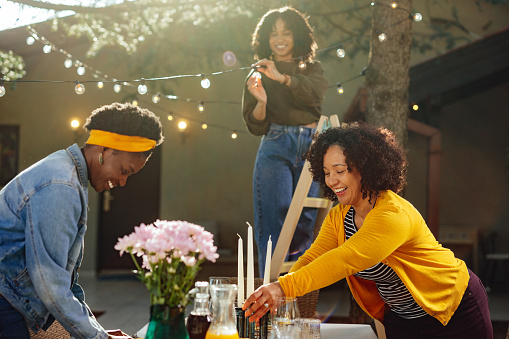 Have Something In It For The Little Ones
Every party has a bunch of kids running around and entertaining themselves. If you have a couple of little ones yourself at home, it would be wise to invest in an outdoor play zone. Set up a sand pit or a play zone that appeals to children of all ages. Even an open space to kick around the ball and play free-movement games will suffice. Ensure this area is far away from the cooking and bar zone to steer clear of any accidents or spills. This little play pit is a great way to get kids out in the sunlight and give up their devices for physical play. It also allows you to keep an eye on the children while playing host.
Set Up A Gazebo
If you live in a tropical region or any place with its fair share of rainfall, you can vouch for how sudden rains can wreck plans. To avoid a downpour at your outdoor parties, consider setting up a cosy gazebo. This space can help house guests who want some time away from the sun. it is also a great spot to have your electronic gadgets for music and entertainment. Construct a gazebo with a stone and wood finish for a resort-like vibe.
Invest In Ambient Lighting
What's a party without some elegant ambient lighting? Bring home so aesthetic lighting pieces that suit the space, length and breadth of your backyard. For a fuss-free budget-friendly option, consider fairy lights that run across the breadth of the fence. It provides a gorgeous and cosy ambience that is perfect to host friends and family. While you are at it, also consider investing in several electric points in safe spots to power music gadgets, projectors or any electronic device you wish to add to your backyard in the future.
Wrap up
Fashioning a gorgeous backyard on a budget is not only possible but also a lot of fun. We hope the above ideas have inspired you on getting started towards building the backyard of your dreams.
Media Contact
Company Name: Wickerfurnituredirect
Email: Send Email
Phone: 1300 286 899
Country: Australia
Website: https://wickerfurnituredirect.com.au/