Exosomes Market To Accomplish Valuation At 18.8% CAGR By 2030, Due To Rising Application Into Cardiovascular Diseases, Cancer And Neurodegenerative Diseases | Grand View Research, Inc.
According to new report available with Grand View Research, Rising number of research grants and projects by various research organizations will contribute toward exosomes market growth.
Exosomes Market Overview
The global exosomes market size was estimated at USD 3.00 million in 2016 and is expected to reach USD 2.28 billion by 2030, at a CAGR of 18.8% during the forecast period.
However, exponential growth in revenue is anticipated over the coming decade due to granular and bottom-up efforts made by researchers in the field. Rising number of research grants and projects by various research organizations will also contribute toward market growth.
Projects are being undertaken to develop methods that enable efficient isolation and characterization of exosomal vesicles. The participation of exosomes in different functions and availability of a wide variety of pathways are expected to fuel research in the field, thereby leading to revenue generation. Rise in research funding is also expected to boost the market in the coming years. For instance, in August 2013, the U.S. National Institutes of Health announced the funding of USD 17 million for 24 research projects focusing on extracellular RNA.
Gather more insights about the market drivers, restrains and growth of the Global Exosomes Market
Small companies flooding the marketplace and the development of novel platforms and advanced technologies will also drive market growth over the forecast period. New platforms enable detection of low abundant membrane proteins and this detection can be carried out even in the background of complex plasma proteins.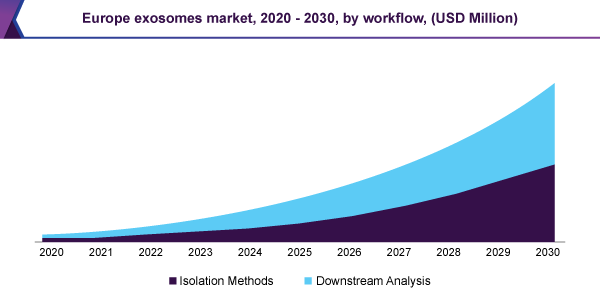 In addition to this, the role of exosomes in providing insights for the diagnosis of pathological conditions is anticipated to increase its adoption in the research arena. Exosomes belong to the family of nanovesicles, which serve many functions in the diagnosis and therapy of multiple diseases.
Exosomes Market Segmentation
Based on the Exosomes Insights, the market is segmented into Isolation Methods and Downstream Analysis.
The downstream analysis accounted for the larger share owing to the growing need for advanced technologies and instrumentation for downstream processing.
Isolation methods comprise ultracentrifugation, immunocapture, precipitation, and filtration. While ultracentrifugation dominated the segment with respect to revenue, other methods are anticipated to witness a similar growth pattern due to fragmented research being carried out in isolation protocols.
Based on the Biomolecule Type Insights, the market is segmented into Non-coding RNAs, mRNA, Proteins/peptides, DNA fragments and Lipids.
Non-coding RNAs are being increasingly used for research purposes and this has enabled them to emerge as the dominant segment.
Application of pre-clinical animal models in research to assess the feasibility of detecting tumor-associated genetic mutations in circulating exoDNA is expected to boost the DNA fragments segment in the coming years. Exosomal DNA possesses translational potential as a circulating biomarker for cancer, a factor that also supports the growth of this segment.
Based on the Application Insights, the market is segmented into Cancer, Neurodegenerative diseases, Cardiovascular diseases, Infectious diseases and Others.
Cancer dominates the overall exosomes market due to the growing role of exosomes in cancer research. Contribution of exosomes for tumorigenesis, chemotherapeutic resistance, and development of novel cancer treatments through the identification of cancer biomarkers is also responsible for the growth of this segment.
The neurodegenerative disorders segment offers significant scope for expansion, owing to the study of exosomes and related extracellular vesicles being carried out in the field.
Based on the Exosomes Regional Insights, the market is segmented into North America, Europe, Asia Pacific, Latin America, and Middle East & Africa (MEA)
North America accounted for the largest revenue share with respect in 2016 and this can be attributed to extensive funding in the U.S.
Asia Pacific is expected to emerge as the fastest-growing region due to immense potential identified in emerging economies such as China and India.
Browse through Grand View Research's Biotechnology Industry Research Reports.
Genotyping Market– The global genotyping market was valued at USD 12.65 billion in 2021 and is expected to expand at a compound annual growth rate (CAGR) of 15.6% from 2022 to 2030.
Next-Generation Sequencing Services Market– The global next-generation sequencing services market size was valued at USD 1.03 billion in 2021 and is expected to expand at a compound annual growth rate (CAGR) of 18.3% from 2022 to 2030.
Market Share Insights:
March 2017: Researchers at the Memorial Sloan Kettering Cancer Center and Weill Cornell Medicine received two grants from the Sohn Conference Foundation for R&D in isolation and characterization of tumor-derived exosomes to study cancer occurrence in children.
Key Companies Profile:
Companies are engaged in setting up production facilities in order to develop specific exosomes cell lines and capture a greater market share. Intense competition has also been noted with respect to patent filing and the launch of novel products.
Some prominent players in the global Exosomes market include
Fujifilm
Thermo Fisher Scientific
Danaher
Illumina
Qiagen
Takara Bio Company
MBL International Corporation
Miltenyi Biotec
Malvern Instruments Ltd.
Order a free sample PDF of the Exosomes Market Intelligence Study, published by Grand View Research.
About Grand View Research
Grand View Research is a full-time market research and consulting company registered in San Francisco, California. The company fully offers market reports, both customized and syndicates, based on intense data analysis. It also offers consulting services to business communities and academic institutions and helps them understand the global and business scenario to a significant extent. The company operates across multitude of domains such as Chemicals, Materials, Food and Beverages, Consumer Goods, Healthcare, and Information Technology to offer consulting services.
Web: https://www.grandviewresearch.com
Media Contact
Company Name: Grand View Research, Inc.
Contact Person: Sherry James, Corporate Sales Specialist – U.S.A.
Email: Send Email
Phone: 1888202951
Address:Grand View Research, Inc. 201 Spear Street 1100 San Francisco, CA 94105, United States
City: San Francisco
State: California
Country: United States
Website: https://www.grandviewresearch.com/industry-analysis/exosomes-market